Board Members
Hans Petter

Holen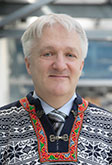 Hans Petter Holen has been actively involved in RIPE and the Internet industry for over 20 years. His extensive first-hand knowledge of global IP address policy creation comes from his time as Chair of the RIPE Address Policy Working Group (formerly known as the Local Internet Registry Working Group).
Previously a member of the NRO Number Council, Hans Petter has also been part of ICANN's ASO Address Council since its formation in 1999 until 2013, with 10 years as Chair and Co-chair.
Hans Petter graduated from The University of Oslo in 1988 with a Bachelor's Degree in Computer Science. He continued with further studies there while working at the University administering the Norwegian EuNet node. He was among the founders of Oslonett AS, one of Norway's first commercial ISPs, and has worked for various other LIRs. Hans Petter joined Visma in 2004 - first as IT Director and then as Chief Information Security Officer (since 2015), where he employs his extensive knowledge of the design, implementation and operation of Internet services and networks in a secure manner.
Hans Petter Holen was appointed RIPE Chair at RIPE 68 on 16 May 2014.
Nigel Titley
Nigel Titley graduated from Oxford University in Engineering Science and Economics, more years ago than he care to remember, and started work at British Telecom's research labs in Martlesham Heath in Suffolk, UK, where he worked for a number of years on several different projects, eventually gravitating towards the new-fangled Internet protocol in the late 1980s. he played a part in the bringing of the Internet to the UK, and Europe, by arranging for BT to be a substantial player in the early days and by designing and operating the first (unofficial) BT email relay, shifting email between BT's internal systems and the Internet.
After helping to design and operate BT's first commercial Internet service he left to design and oversee the applications services (DNS, Email, NTP and Usenet news) in Level 3's new European network. The advent of ethernet over IP led to my becoming one of the founders of PacketExchange, a company which set out to exploit the technology.
From there he went on to become peering manager for FLAG Telecom and then finally to Easynet, where he remained until early 2014. My current job involves the development of my long-time small business designing and selling environmental logging equipment and specialist electronic components. On the way he found time to help found the London InterNet eXchange (LINX) and serve on its board for 12 years, to found Nominet (the UK registry), to act as co-chair for the RIPE Database Working Group, to launch 6UK (an organisation dedicated to encouraging IPv6 use by businesses in the UK), and, of course, to serve on the RIPE NCC Executive Board, where he am currently the Chairman and which takes roughly two days a week of my time. he have been active in the RIPE community for many years, having co-authored a number of policy proposals related to transfer policy, fair run-out, certification, and recovery and re-use of IPv4 resources.
As he am now effectively my own boss he can dedicate whatever time he feel appropriate to serving the Internet community and he intend to continue to help in whatever way he can.
Daniel Karrenberg
Daniel Karrenberg is one of the pioneers of the Internet in Europe.

In the 1980s, he helped build EUnet, the first pan-European Internet Service Provider (ISP). In 1989, Daniel was one of the founders of RIPE (Réseaux IP Européens), the key collaborative forum in Europe for Internet coordination. In the 1990s, Daniel led the formation of the world's first Regional Internet Registry, the RIPE Network Coordination Centre (RIPE NCC), serving Europe, the Middle East and parts of Africa and Central Asia.
Daniel Karrenberg has been the Chief Scientist at the RIPE NCC since 2000. Since then, Daniel has played a leading role in a significant number of operational activities in the Internet community, including RIPE Routing Information Service (RIS), RIPE Test Traffic Measurements (TTM), DNS Monitoring Service (DNSMON) and Name Server Demon (NSD). His current interests remain the Internet in general as well as trust, identity and measurements on the Internet in particular.
Daniel has served on a number of Internet governance bodies. Most recently, he finished his second three-year term as a trustee of the Internet Society. He has been Chairman of the Board of Trustees for three years. Daniel was inducted into the Internet Hall of Fame in 2012.
In 2001, Daniel was awarded the prestigious John Postel Internet Service Award "for two decades of extraordinary dedication to the development of networking in Europe and around the world".
Daniel lives in Roermond, the Netherlands with his wife and children.